2020.11.30

We are operating on schedule.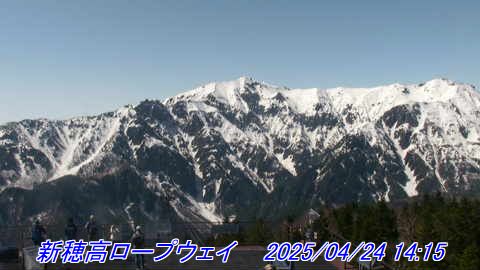 Weather at the summit observatory
weather

Visibility

Poor

temperature

-5 ℃

wind speed

SE3~5 m/s
Availability of parking lot
Shinhotaka Onsen
parking lot

Nabedaira Kogen
parking lot

Operation hours
Open Year-Round
※There are extra rides during busy times.
※Operation may be suspended due to bad weather or for periodic inspections.
No. 1 Ropeway Leaves 0 and 30 minutes past every hour.
No. 2 Ropeway Leaves 15 and 45 minutes past every hour.
Departure
station
Operation
hours
Green

(4/1-11/30)
Summer

(8/1-31)
Autumn leaves

(Saturday, Sunday and publicholidays in October)
Winter

(12/1-3/3)
Shinhotaka Spa station

(up)

Shirakabadaira station

(up)

Nishihotakaguchi station

(down)

First train
Last train
First train
Last train
First train
Last train
8:30
16:00
8:45
16:15
8:45
16:45
8:00
16:00
8:15
16:15
8:15
16:45
8:00
16:00
8:15
16:15
8:15
16:45
9:00
15:30
9:15
15:45
9:15
16:15
Ropeway ride time
No. 1 Ropeway / No. 2 Ropeway

One-way ride time Approximately

25 minutes
Instagram